DETAIL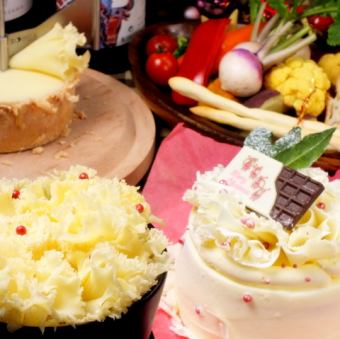 【Special Anniversary】 Cheese Fondue & Special Cake Course to choose from 21 different sources ⇒ 5280 yen
5280 yen
(Tax excluded)
«12/11 ~ 12/26 will be Christmas cake» Let's celebrate a special day with a custom-made hole cake with a letter plate on the top ♪ Choose cheese fondue 3 kinds including luxurious Japanese beef! Petit luxury reward It is a course.I will deliver it to an important person thoughtfully on a letter plate.
Menu

◇ Potage of vegetables

◇ Random four appetizers of appetizers

(Example)

Roast ham

·bacon

· Kaecsare

Carrot la Paix

◇ Ando Farm Original Cheese Fondue

(Choice from 21 types)

· 10 kinds of vegetables

- breadstick

·bucket

◇ Low-temperature cooked pork grill

◇ Confined Oyama chicken

◇ Grilled Kuroge Wagyu beef

◇ Freshly prepared cold pasta

♪ Special Hall cake "Letter plate"

It is possible to upgrade at + 500 yen.We would recommend this if you are celebrating with a large number of people.
Coupon that can be used
"Limited time"
Special cake with cake with Christmas cake!

Presentation conditions

At the time of booking

Conditions of use

1 group 1 time 1 piece / 2 people or more / only for those using the course

Expiration date

December 11, 2017 - December 26, 2017